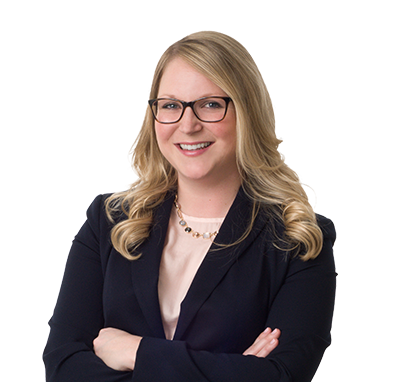 Lynsey Stewart is an associate in the firm's Chicago office. Lynsey concentrates her practice in civil litigation with an emphasis on medical malpractice, auto, and general liability actions. She has represented both physicians and hospitals in medical malpractice cases from discovery through trial. Lynsey is also well versed in binding arbitration, and has represented clients in arbitrations through the American Arbitration Association.
In addition to her experience in trial court, Lynsey has an appellate practice, managing all aspects of an appeal from brief writing to oral argument. She has argued in both Illinois State Appellate Courts and the Seventh Circuit, and has won multiple appeals for her clients.
Prior to joining Cassiday Schade, Lynsey worked as a law clerk at a Chicago-based firm where she gained valuable experience in all aspects of civil litigation, including healthcare, construction, premises, transportation, and other tort liability.
Before law school, Lynsey worked as a middle school teacher at a public charter school in Washington, D.C., and she holds a Master's Degree in Education. She is also a member of several academic honor societies including, Alpha Sigma Nu and Phi Beta Kappa.
Education
Loyola University Chicago, J.D., magna cum laude
American University, M.A.T.
Georgetown University, B.A., magna cum laude
Bar Admissions
Court Admissions
Supreme Court of Illinois
U.S. District Court, Northern District of Illinois
U.S. Court of Appeals, Seventh Circuit
The Medical Malpractice Statute of Repose is not an "Absolute Bar" where a timely filed Complaint Preserves the Claim
Medical Liability
Lynsey Stewart
On November 30, 2017, the Illinois Supreme Court evaluated the interplay of the Wrongful Death Act, the medical malpractice statute of repose, and the relation back statute in a matter of "first impression" in the State of Illinois. See Lawler v. Univ. of Chi. Med. Ctr., 2017 IL 120745, appealed from Lawler v. Univ. of Chi Med. Ctr., 2016 IL App (1st) 143189. At issue was whether a pending medical malpractice complaint can be amended to include a Wrongful Death claim that accrued after the statute of repose expired. Relying on the relation back statute, the Illinois Supreme Court held that it can.